Cutting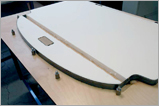 ALPI manufacture cutting parts in textile, nonwoven, carpet, wood. ALPI have about 40 presses, with a power about 30 T to 200 T.
With our equipment we are able to propose to our customer a lot of part for seat, acoustic insulation and interior car.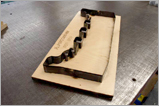 ALPI is able to produce cutting tool with a high quality. We are able to supply parts in very short time due to the tools production integration.